The northwest portion of Harnett County is anticipated to experience significant growth as development expands south and east from Wake and Chatham counties. In order to manage this growth, Harnett County officials have initiated the Northwest Harnett County Small Area Plan. Residents and business and property owners will be given the opportunity to help craft the plan, and guide the growth and development within Northwest Harnett County for years to come.
A public workshop for the Northwest Harnett County Small Area Plan will be held on Tuesday, August 28th from 4:30-7:00 p.m. in the NW Harnett Fire Station located at 6015 Christian Light Rd., Fuquay Varina, NC 27526. Citizens who live, work or own property in the study area are invited to attend. Attendees will have the opportunity to learn more about the study area, provide input on their vision for future growth, and talk with the steering committee and consultant team.
The intent of the Small Area Plan is to provide a framework to guide development within this potential high growth area, while maintaining rural character, environmental quality, and enhancing livability of the area. The plan will focus on the unincorporated areas of Northwest Harnett County which includes western Angier, northern Lillington, and the communities of Duncan, Kipling and Chalybeate Springs. The map on page 2 of this press release shows the study area for the Small Area Plan.
In addition to the public workshop, an online survey is available for the community to provide input. Those interested can take the survey on the project website, www.harnett.org/planning/long-range-planning.asp. The purpose of the survey is to better understand local concerns regarding anticipated growth in the area and to gain insight into the type of development residents and other stakeholders would like to see within the study area.
For more information about the Northwest Harnett County Small Area Plan or the Public Workshop, please visit www.harnett.org/planning/long-range-planning.asp, or contact the Harnett County Planning Department at 919.893.7525 extension 4.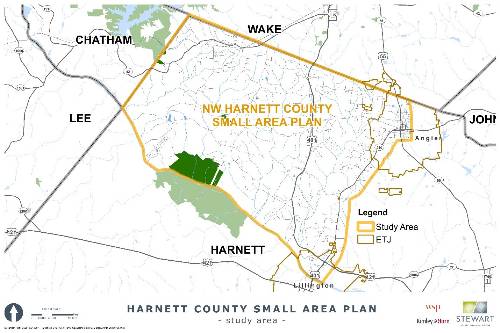 Northwest Harnett County Study Area Map