Colleges & Schools - COVID-19 Updates
HARNETT COUNTY SCHOOLS
On August 4, the Harnett County Board of Education announced that schools will reopen under a Modified Plan B. The Modified Plan B reopening plan allows schools to reopen with staggered entry dates for both in-person and online instruction. Parents who selected option 1: on-campus (face-to-face) or option 2: remote learning will still adhere to the selected option for their child. Parents who chose the remote learning option for students will remain in remote learning after in-person instruction begins. For the 2020-2021 school year, Harnett County Schools will reopen under following Modified Plan B schedule: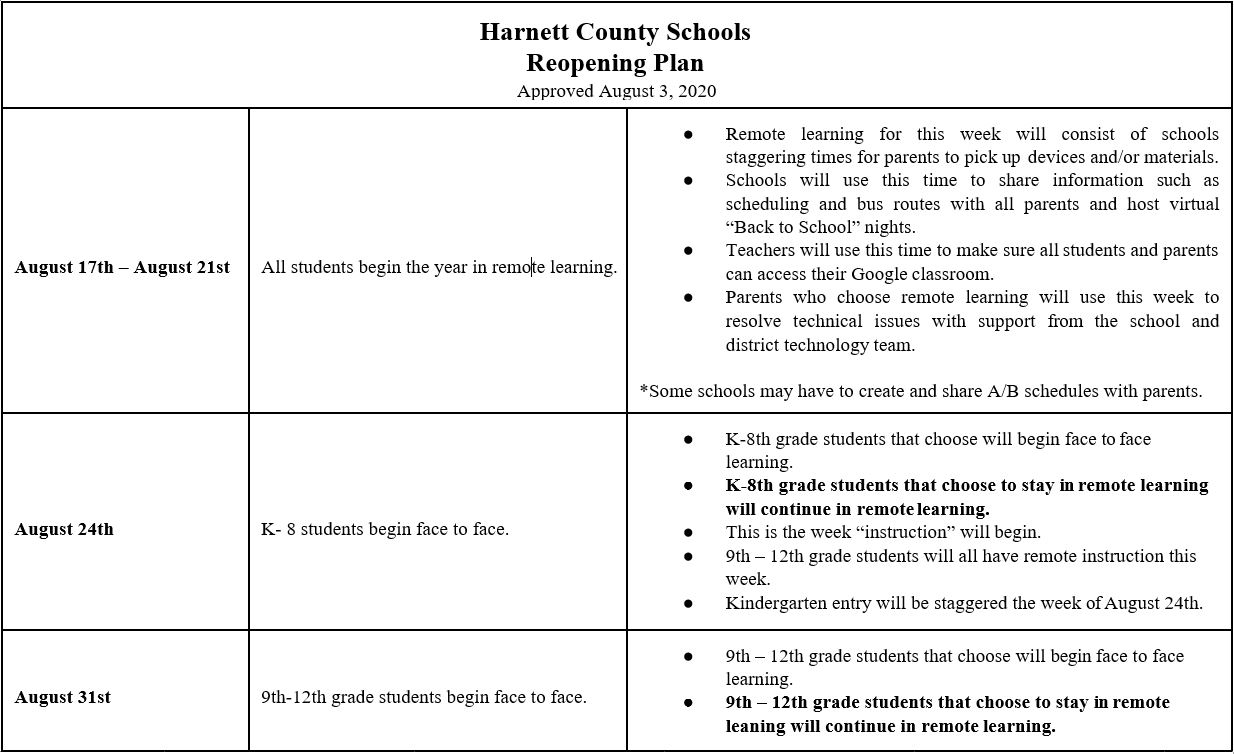 CAMPBELL UNIVERSITY
Campbell University is ready to welcome our community back for Fall 2020. We are working hard to prepare our facilities to ensure the health and safety of our community as we navigate the reality of COVID-19. As we gather for classes, meetings, worship, events, dining, and fellowship, we must care for our neighbors as we care for ourselves. Our new rhythms and policies are rooted in the spirit of community we know at Campbell. We are ready to welcome our community with a renewed sense of purpose and look forward to providing you with the information you need to safely return to campus. View more information on resources for returning to campus in Fall 2020
Campbell Releases Face Covering and Social Distancing Policy
Effective July 1 and until further notice, Campbell University is requiring the wearing of face coverings for all students, faculty and staff in all university buildings and specifically in classrooms and laboratories, President J. Bradley Creed announced this week.
The University released a detailed Face Covering & Social Distancing Policy to limit the spread of COVID-19 on campus as full-time employees return to campus after months of working remotely. Undergraduate classes on Campbell's main campus begin on Aug. 19.
According to the policy, face coverings will be required in University public settings or outdoor spaces when social distancing (a minimum of six feet) is not possible. They will not be required when the student, faculty member or staff member is alone in their office, a residence hall or outdoors when maintaining a safe distance from others. All will be required to have face coverings available when social distancing is not possible (hallways, elevators, etc.).
Changes to Academic Calendar
In an effort to ensure student safety as they return to campus in the fall, Campbell University has made several changes to its fall academic calendar, Provost Mark Hammond announced today.
Chief among the changes:
Undergraduate classes on Campbell's main campus will begin on Wednesday, Aug. 19.
The University will eliminate its fall break on Oct. 8-9.
The final day for face-to-face instruction will be Tuesday, Nov. 24.
Main campus undergraduate students will not return to campus after the Thanksgiving break.
Final examinations will be conducted online.
For the latest updates from Campbell University, visit www.campbell.edu/coronavirus/.
CENTRAL CAROLINA COMMUNITY COLLEGE
As we work through a unique summer semester, we appreciate your commitment to keeping CCCC safe. We always strive to provide a quality learning experience for our students, and we have demonstrated our strength as an institution over these past three months. As we approach the Fall 2020 semester, please review the following COVID-related updates regarding our academic calendar and college operations.
2020-2021 Academic Calendar
The 2020-2021 academic year will begin as scheduled on Monday, August 17, 2020.
Over the past month, the College engaged with faculty, staff, and students in a number of ways to discuss potential changes to the academic calendar in light of the COVID-19 pandemic. The result of those discussions was the College should begin as scheduled with appropriate measures in place for classroom and personal safety.
Additionally, all departments in Curriculum, Workforce Continuing Education, and College & Career Readiness are preparing to "go virtual" again in case modifications are needed due to COVID-19 infection rates.
Below is a description of measures currently planned to provide a safe learning environment and to protect high-risk members of the College family, as we make plans to reopen CCCC during the Fall 2020 semester.
Classroom Safety
There are numerous benefits to a face-to-face learning environment. With that in mind, CCCC remains committed to safety as our top priority when making decisions about our return to face-to-face instruction. Numerous provisions have been made to protect the health and safety of all students and employees, including:
A review of classroom dimensions and furniture has taken place in every classroom on all main campuses, sites, and centers. Classroom capacities are being reduced to allow for appropriate physical distancing in curriculum, continuing education, and CCR courses.
Departments have moved many classes to 100% online or made adjustments to offer additional blended (combination of online and face-to-face) course sections that reduce the amount of time on campus across curriculum, continuing education, and in CCR.
In Curriculum, additional online sections are being added with synchronous online requirements. These will be coded in the Colleague system with the "C" section number (e.g. PSY 150 LC1). Although the modality will be 100% online, these courses will require specific synchronous meeting times (e.g. MW, 9 – 9:50 a.m.) via Blackboard Collaborate.
The College is also reviewing its technology capacity and making necessary upgrades to equipment to record more lectures or have the appropriate technology to maximize distancing efforts in certain departments as necessary.
Increased availability of hand sanitizing stations across all campuses, sites, and centers.
Classrooms will be cleaned more often and in a coordinated effort between faculty and facility staff members.
For more informatoin on CCCC's COVID-19 response, visit https://www.cccc.edu/homepageDetails/2020/coronavirus/.