Legislative Priorities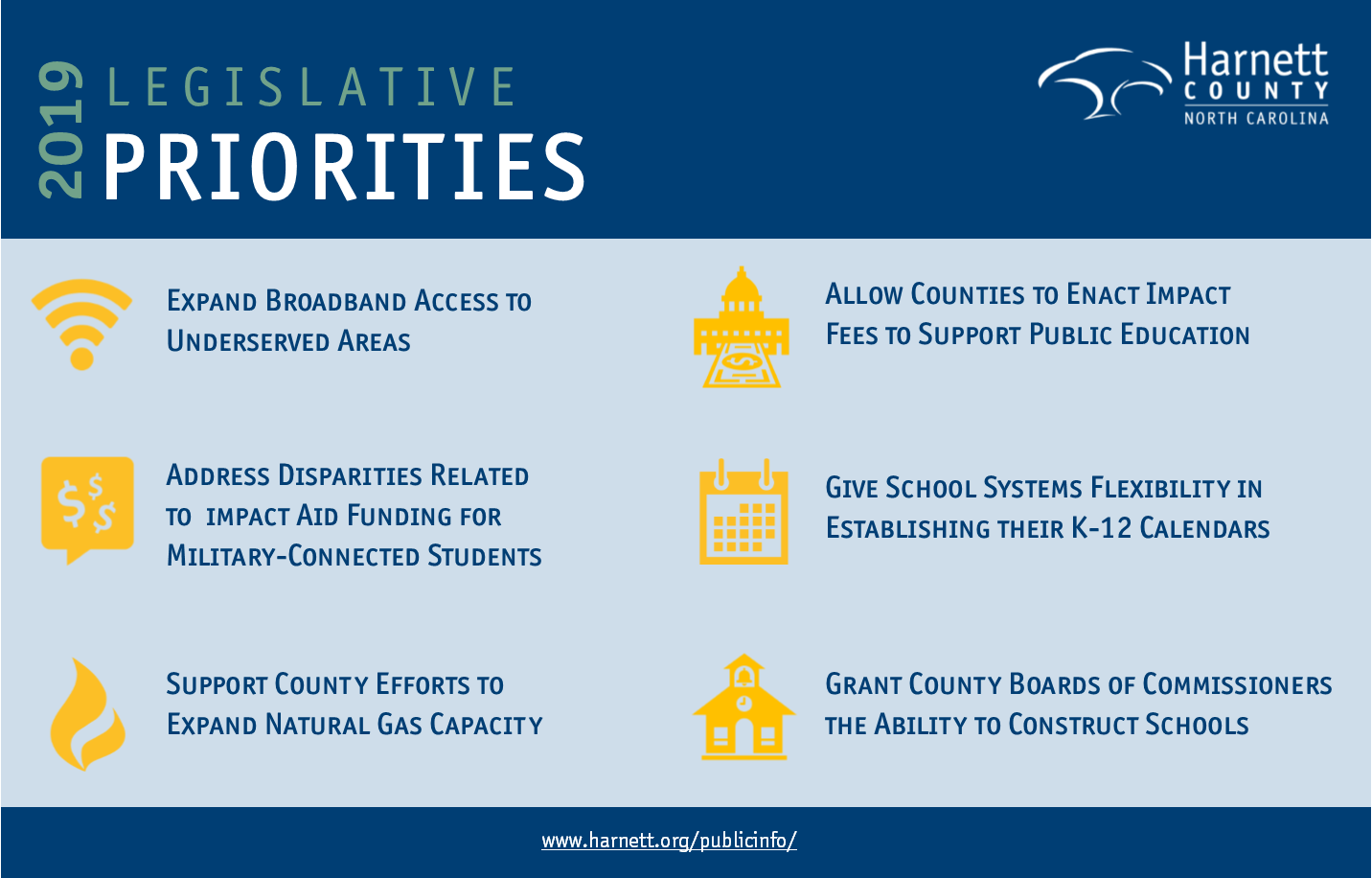 Assist Harnett County in Expanding Broadband Access to Underserved Areas (State/Federal)
Lack of access to high speed Broadband is a significant barrier to economic growth for a community, and limits educational opportunities and outcomes for residents. We ask for assistance in developing infrastructure and providing broadband to underserved areas within the county, either through legislation or funding. The County is currently completing a Broadband Survey of residents' current and desired level of Broadband access to share with providers in hopes of attracting them to expand service.
Address Disparities Related to Impact Aid Funding for Military-Connected Students (Federal)
Due to the way Counties are currently funded for military-connected students, Harnett County receives considerably less in federal funding per student than do surrounding counties. We believe that the funding provided for military-connected students should be the same, regardless of where they attend school, and we seek additional funding to support the education of these students and reduce the burden on the County's taxpayers.
Support County Efforts to Expand Natural Gas Capacity (State)
Access to natural gas is a basic requirement for many industries and businesses looking for sites to locate new facilities. Despite population growth in portions of Harnett County, a lack of access to natural gas has prevented the commercial and industrial growth that would normally accompany this growth. We ask for assistance in identifying ways to expand natural gas capacity throughout the county through public-private partnerships.
Allow Counties to Enact Impact Fees to Support Public Education (State)
Harnett County is among the fastest growing counties in North Carolina, and with that growth comes additional demand for public services. The County's median home value in 2017 was $144,700, which does not generate enough tax revenue to pay for the services the home's occupants will need. At present, approximately 3,700 new homes are at some stage of development in Northwest Harnett County, which will create a significant burden on our school system. We request legislation that would allow the County to enact a fee on new development to assist in funding public education in the county.
Give School Systems Flexibility in Establishing their K-12 Calendars (State)
Allowing flexibility in establishing their K-12 calendars would give school systems the ability to align the K-12 calendar with local community colleges, which would allow for more opportunities for high school students to take advantage of opportunities for higher education. The Harnett County Board of Commissioners voted last year to provide free tuition for high school students in Harnett County who meet certain requirements to attend Central Carolina Community College.
Grant County Boards of Commissioners the Ability to Construct Schools (State)
The Harnett County Board of Commissioners asks for the authority to construct schools, to allow the County strategically plan for growth and to reduce existing and future issues with school overcrowding.
For additional priorities presented to the state and federal legislatives representatives, click here.