Harnett County continues to work with state officials and local agencies to closely monitor the Coronavirus Disease (COVID-19). Residents are encouraged to stay up-to-date with the latest COVID-19 information by reviewing our daily press release. We will continue to provide new information while also communicating reminders for residents during this time.
In today's update, the following sections include new information:
Harnett County COVID-19 Data
Commissioners to Hold Work Session on August 11
Harnett County Schools Announces 2020-2021 Reopening Plan
NC to Remain Paused in Phase 2
Extension of Medicaid Temporary Policy & Rate Enhancements
Programs & Activities: Harnett County Public Library
HARNETT COUNTY COVID-19 DATA
As our COVID-19 cases continue to increase, protect yourself and others by doing the 3 Ws: WEAR a cloth covering over your nose and mouth, WAIT 6 feet apart, and WASH your hands. These actions can protect our families and neighbors. Highlights of the data derived from the confirmed positive COVID-19 cases for Harnett County as of August 7, 2020 include:
Confirmed cases 1243
Recovered cases 998
Deaths reported 39
Age ranges are 1 month-97 years
Average Age is 43
Positive Cases by Race 471 Hispanic, 484 White, 258 Black, and 30 Other
Positive Cases by Ethnicity 471 Hispanic, 742 Non-Hispanic and 30 Other
Gender 51% female and 49% male
It is important to remember that the data contained in this release is subject to change as cases are investigated and additional testing is performed.
Institutional Outbreaks of COVID-19:
In a congregate living setting, a COVID-19 outbreak is defined as two or more laboratory-confirmed cases. The Health Department received confirmation regarding positive cases of COVID-19 at Harnett Woods Nursing and Rehabilitation Center located in Dunn, Emerald Health and Rehabilitation Center located in Lillington and Absolute Care Assisted Living facility located in Angier. The confirmed cases have been with staff of the facilities and residents. Congregate living guidance has been provided for the facilities by Harnett County Health Department staff, including adherence to infection prevention precautions for residents and staff limiting opportunities for the infection to spread to others in the facility. The additional testing that led to these results was part of a comprehensive public health investigation based on a confirmed outbreak.
Correctional Institution: The Health Department received confirmation regarding positive cases of COVID-19 at Harnett Correctional Institution located in Lillington. The confirmed cases have been with staff of the facility and inmates. For more information click here or on the title to view NCDHHS web site.
Harnett County COVID-19 Dashboard. The Health Department is working to provide consistent updates about reported cases of COVID-19 to help our community better understand how this pandemic is developing in our county. The COVID-19 Harnett County Dashboard offers a snapshot of confirmed COVID-19 cases specific to Harnett County. The report includes daily case counts, cases per week, and cases by age, race, ethnicity, gender and deaths. For more information regarding the data in this report, contact the Health Department at 910-893-7550. VIEW REPORT
COMMISSIONERS TO HOLD WORK SESSION ON AUGUST 11
The Harnett County Board of Commissioners will hold their next work session on Tuesday, August 11, 2020 at 9 am at the Harnett County Administration Building, located at 420 McKinney Parkway. A quorum of the Harnett County Board of Commissioners and County staff will be stationed in the meeting chambers to maintain the recommended social distancing of 6 feet.
The public will have to option to attend the meeting virtually. Virtual attendees can receive live updates from the meeting by tuning into Harnett County Government's YouTube Channel at: https://www.youtube.com/channel/UCU7mTF6HTD65x_98EhAMeMg/featured. The live stream will be audio only. You may also follow along on Twitter (@HarnettCounty) to get live updates during the meeting or call in and listen to the meeting by dialing (910)-814-6959.
The August 11 Work Session agenda includes:
HARTS Transportation Discussion
2019 Tax Settlement Discussion
Discussion regarding Shawtown leases
Possible donation of surplus property from DSS Child Support
County Manager's Report
Learn more about the August 11 Work Session.
HARNETT COUNTY SCHOOLS ANNOUNCES 2020-2021 REOPENING PLAN
On August 3, the Harnett County Board of Education announced that schools will reopen under a Modified Plan B. The Modified Plan B reopening plan allows schools to reopen with staggered entry dates for both in-person and online instruction. Parents who selected option 1: on-campus (face-to-face) or option 2: remote learning will still adhere to the selected option for their child. Parents who chose the remote learning option for students will remain in remote learning after in-person instruction begins. For the 2020-2021 school year, Harnett County Schools will reopen under following Modified Plan B schedule: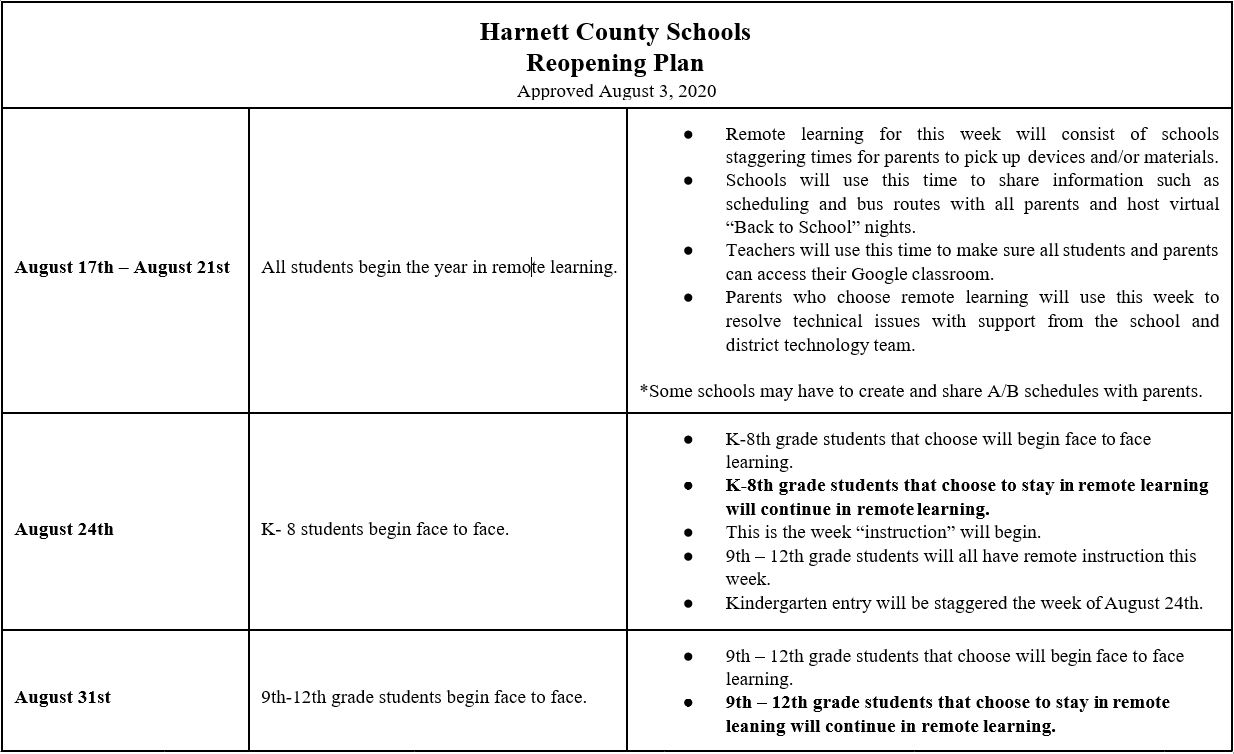 NC TO REMAIN PAUSED IN PHASE 2
Governor Roy Cooper today announced that North Carolina will remain paused in Safer At Home Phase 2 for another 5 weeks as students and staff return to schools, colleges and universities and the state doubles down on efforts to decrease COVID-19 numbers.
Dr. Mandy Cohen, Secretary of the North Carolina Department of Health and Human Services shared an update on North Carolina's data trends. Dr. Cohen explained that while some of North Carolina's numbers have mostly leveled, any progress is fragile as other states have shown with sudden and devastating surges in viral spread.
Trajectory in COVID-Like Illness (CLI) Surveillance Over 14 Days
North Carolina's syndromic surveillance trend for COVID-like illness is declining, though remains elevated.
Trajectory of Lab-Confirmed Cases Over 14 Days
North Carolina's trajectory of lab-confirmed cases has stabilized but remains high.
Trajectory in Percent of Tests Returning Positive Over 14 Days
North Carolina's trajectory in percent of tests returning positive is stable but still elevated.
Trajectory in Hospitalizations Over 14 Days
North Carolina's trajectory of hospitalizations is beginning to level.
In addition to these metrics, the state continues building capacity to be able to adequately respond to an increase in virus spread. These areas include:
Laboratory Testing
While testing turnaround times have improved, the number of tests done has decreased over the past week. Testing is a priority for anyone who has symptoms or those who may have been exposed to COVID-19, including:
Anyone who has attended a mass gathering including a protest.
Anyone who works in a setting at higher risk of exposure such as a grocery store, restaurant, gas station, or childcare program.
People who live or work in high-risk settings such as long-term facilities, homeless shelters, correctional facilities or food processing facility.
Tracing Capability
We continue hiring contact tracers to bolster the efforts of local health departments. There are over 1,500 full-time and part-time staff supporting contact tracing efforts, including the 615 Community Care of North Carolina (CCNC) contact tracers.
Personal Protective Equipment
Our personal protective equipment (PPE) supplies are stable.
View the slides and graphs from today's presentation.
Read the Executive Order.
EXTENSION OF MEDICAID TEMPORARY POLICY & RATE ENHANCEMENTS
NC Medicaid is committed to ensuring beneficiaries continue to receive Medicaid and NC Health Choice services with no interruptions or delays due to COVID-19. Recently, the federal Declaration of Emergency scheduled to end July 25, 2020, was extended through Oct. 25, 2020. In response to this new date, NC Medicaid has extended its COVID-19 related temporary Clinical Coverage Policy provisions to Dec. 31, 2020. COVID-19 related rate enhancements are extended through Sept. 30, 2020.
Extended Temporary Clinical Policy Provisions
Temporary Clinical Coverage Policy modifications are extended through Dec. 31, 2020. Please refer to the relevant COVID-19 Medicaid Bulletins for details.
Additionally, NC Medicaid is accepting public comment on proposed Medicaid and North Carolina Health Choice policies to adopt permanent changes based on certain temporary modifications. All stakeholders are encouraged to provide feedback. The process of making select temporary provisions permanent will continue through this calendar year.
Extended Temporary Rate Enhancements
NC Medicaid has determined that it is both necessary and feasible to continue temporary enhanced rates related to COVID-19 through Sept. 30, 2020. In the fall, NC Medicaid will reassess both needs and available funding. Please refer to relevant COVID-19 Medicaid Bulletins and Medicaid fee schedules for details.
Contact
NCTracks Contact Center: 800-688-6696
PROGRAMS & ACTIVITIES FOR HARNETT COUNTY RESIDENTS
Harnett County Parks & Recreation
Greenway Plan Survey. Harnett County is working to provide more recreational opportunities for residents and to make Harnett County a more attractive place for prospective residents and businesses. We're creating a County-wide Bicycle, Pedestrian, & Greenway Master Plan to shape the development of future amenities for walking, cycling and trails in Harnett County!
Residents are encouraged to get involved by completing the Harnett County Greenway Plan Survey. The survey can be accessed online at www.surveymonkey.com/r/harnettgreenwayplan.
Learn more about the Greenway Plan at www.harnettgreenwayplan.com.
Virtual Nature Hikes. Harnett County Parks and Recreation launched a virtual nature hike series in May. The first hike at Anderson Creek County Park explored the many different elements of a Long Leaf Pine Ecosystem. This multi-part series explored some basics of a long leaf line ecosystem, including plant life, signs of local wildlife, the benefits of conducting prescribed burns, etc. The second hike was held at the Cape Fear River Trail Park in Erwin and explored many interesting finds at the park such as the very large "grandfather trees", observed flora and fauna, and the soothing sounds of the Cape Fear River waters.
All parts of these virtual hikes can be found on the Harnett County Parks and Recreation YouTube Channel.
Virtual Art Lessons. Harnett County Parks & Recreation has partnered with Elyse Johnson with Artifactual to bring you virtual art lessons. You can view all of the previous art lessons on the Harnett County Parks & Recreation Facebook page.
Summer Camp. Boone Trail Community Center is hosting summer camp for children ages 5-12. The camp is following COVID-19 guidelines. Limited spots in select summer camp weeks are still available. Anyone interested can contact Drew Bryant at wbryant@harnett.org or (910) 893-7518 if they would like to register their child.
Harnett County Public Library
The Harnett County Public Library is open with some service limitations. The number of customers allowed in the building will be limited. Patrons are required to wear masks and are encouraged to complete their library transactions and exit the building as quickly as possible so that library staff can safely accommodate others.
The Harnett County Public Library continues to provide access to content that enriches the lives of our community. This includes:
Online library card registration
Curbside item pickup on Monday through Friday from 10:00am-4:00pm
Electronic resources, including eBooks, audiobooks, interactive picture books, video, magazines, study resources, and more!
Visit the Harnett County Public Library's COVID-19 Resources webpage for the latest information about library programs and services.
Summer Reading Program. The summer reading program has officially ended, and now it's time to turn in your reading logs! All early literacy, school age, and teen logs can be turned through August 7th. Prize bags will be given out for any log turned in (while supplies last). Each reading log will be an entry for our grand prize drawing, held on August 10th.
Adult Summer Challenge logs can be exchanged for a prize any time between August 1st- 30th. Each log will be an entered into our adult grand prize drawing to be held August 31st. Thank you for making this unique summer reading program a success!
Dial-A-Story Service. The Harnett County Public Library also launched a new Dial-A-Story service. With this service, parents can call 910-814-6350 anytime of the day to let their children listen to a pre-recorded message of one of our librarians reading a storybook! The stories will be updated every few weeks and will feature different readers each time.
Book Bundles. Need a great story for your little ones? We've got you covered! The Harnett County Public Library now offers Book Bundles! Book Bundles are a selection of 5-7 storybooks picked out by our librarians and put together by a certain theme. We've got fairy tales, dinosaurs, bedtime stories, and so much more! You can check out a book bundle in the library or pick one up curbside. Call 910-893-3446 to reserve your Book Bundle today!
HARNETT COUNTY BUSINESS RESOURCES
Harnett County Economic Development
Harnett County Economic Development has compiled the latest COVID-19 information and resources for businesses in Harnett County. If your company is considering transitioning to production of medical supplies or equipment, please contact Angie Stewart at astewart@harnett.org for an expanded list of resources to potentially assist beyond those listed on the website. For businesses preparing to reopen, view these COVID-19 resources.
NCDHHS Checklist for Developing a Reopening Plan
The North Carolina Department of Health and Human Services (NCDHHS) is encouraging all businesses and employers to create and implement a plan to minimize the opportunity for COVID-19 transmission at their facility. When developing these plans, there may be certain considerations to follow for compliance with applicable Executive Orders and guidance provided for individual business types. This checklist will help retail businesses and other entities reduce the spread of COVID-19 in their communities.
VIEW CHECKLIST FOR DEVELOPING A REOPENING PLAN
Central Carolina Recovery Program
Businesses negatively impacted by C-19 may be eligible for free 1-on-1 virtual consulting with a business expert to help your business not just survive but thrive moving forward. Click here to apply.
COVID-19 Relief Bills
On May 4, 2020, Governor Cooper announced two COVID-19 relief bills. House Bill 1043 includes appropriation of $125 million to Golden LEAF Foundation for the NC COVID-19 Rapid Recovery Loan Program. Applications are reviewed on a first come, first served basis. Visit NCRapidRecovery.org to learn more about the program and submit an application for your small business.
Count on Me NC Safety Training Program
Governor Roy Cooper and Secretary of the North Carolina Department of Health and Human Services, Mandy Cohen, announced a partnership with North Carolina Restaurant and Lodging Association (NCRLA) for an innovative safety training program for North Carolina businesses and restaurants. Count on Me NC is a free online training program to help restaurants, hotels and other businesses learn the best ways to protect customers and employees from COVID-19.
Businesses across North Carolina can participate in this no-cost training that was developed with the NC Department of Health and Human Services. It includes evidence-based practices on social distancing, employee health and sanitation to protect people's health.
The first phase of Count on Me NC training is designed for restaurants and hospitality businesses that serve food. The program plans to expand to other tourism businesses including lodging and attractions and add courses in Spanish by June.
Count on Me NC also encourages customers to take precautions before returning to restaurants, especially if they're in a high-risk population and to be respectful towards staff as they adjust to these guidelines. Individuals can take the Count on Me Pledge to practice the Three Ws – wear a face covering, wash hands frequently, wait six feet apart from others – and to stay home if they're feeling sick.
See which businesses have already completed training and learn more on how to participate at CountOnMeNC.org.
Regional Skills Analysis Survey
A critical question moving forward for North Carolina's economic recovery will be how to identify industries with growth, what skills and credentials will be needed to work in those industries, and how to connect the workforce with training and job openings. This will require a concerted effort from the private sector, workforce development, and educational institutions to bridge existing skills and access gaps and connect people out of work to good-paying, quality jobs.
To support this effort, RTI, Wake County Economic Development, Capital Area Workforce Development, the City of Raleigh , Cape Fear Collective, and the Wilmington Chamber are conducting a regional skills analysis survey in the Triangle and Cape Fear regions of North Carolina to identify industry and region-specific trends and needs for talent in the next three years. This data will inform a coordinated strategy to prepare economic and workforce development partners to address the workforce needs of industry as we navigate the economic recovery.
The Regional Skills Analysis survey is led by industry leaders in the Research Triangle region and Cape Fear regions and aims to evaluate workforce needs and trends in North Carolina.
The survey should take about 15 minutesto complete. You can save your answers and finish later.
Respondents who complete the survey can enter into a prize drawingfor regional-specific rewards, including gift cards to local businesses.
This survey is best answered bysomeone with familiarity with the organization's hiring process, like a manager, HR representative, or executive.
Job Opportunities
There are also several local businesses within Harnett County looking to hire. The following positions are available at this time:
Harnett County Small Business Center
Free Workshops, Seminars, and Webinars from Across the State and Just Down the Road
Support from Local Chambers
Businesses can also receive support from the County's five Chambers of Commerce. Small businesses are encouraged to reach out to these organizations for additional support during COVID-19.
STATEWIDE REQUIREMENTS FOR FACE COVERINGS
Effective June 26, North Carolina is adopting a face covering requirement to help slow the spread of COVID-19. This new executive order makes it mandatory for people to wear a cloth covering over your nose and mouth when they are indoor and in outdoor public places and where staying 6 feet from people who are not part of their households is impossible. Face coverings are a simple way to control this virus while we protect ourselves, our families, and other people around us. Employees and customers of retail businesses and restaurants, as well as workers in manufacturing, construction, meat process and agriculture settings, must wear face coverings in those places.
View the FAQ on Executive Order 147
View the NCDHHS Guidance on Face Coverings
NC PAUSES IN SAFER AT HOME PHASE 2, ADDS STATEWIDE FACE COVERING REQUIREMENT
Governor Roy Cooper and North Carolina Department of Health and Human Services Secretary Dr. Mandy Cohen announced that North Carolina will remain in Safer at Home Phase 2 through July 17. Cooper also announced that face coverings must be worn when people are in public places as officials seek to stabilize concerning trends of increasing viral spread.
Growing evidence shows that cloth face coverings, when worn consistently, can decrease the spread of COVID-19, especially among people who are not yet showing symptoms of the virus. Until now, face coverings had been strongly recommended. Under today's executive order, people must wear face coverings when in public places where physical distancing is not possible.
In addition, certain businesses must have employees and customers wear face coverings, including retail businesses, restaurants, personal care and grooming; employees of child care centers and camps; state government agencies under the Governor's Cabinet; workers and riders of transportation; and workers in construction/trades, manufacturing, agriculture, meat processing and healthcare and long-term care settings.
Businesses can download templates for signs on face coverings here . Downloadable social media graphics are also available for use.
Read Executive Order No. 147 that implements today's announcement.
Read Frequently Asked Questions about today's executive Order and mandatory face coverings.
Read NCDHHS guidance on face coverings.
View the slide presentation from today's briefing.
RESOURCES FOR INDIVIDUALS
The North Carolina Department of Health and Human Services continues to provide ongoing benefits as well as some emergency benefits as the impact of COVID-19 continues in our state. There are several ways you can apply or find out more information online to get benefits for you and your family. Click here for links, direct contact information, and scannable QR Codes.
NC 2-1-1 is an information and referral service that families and individuals can call to obtain free and confidential information on health and human services resources within their community. NC 2-1-1 operates 24 hours a day, seven days a week, 365 days a year and resources are available in most languages. North Carolinians can text COVIDNC to 898211 to receive general information and updates about COVID-19.
HOW TO HELP: INFORMATION ABOUT VOLUNTEERING AND DONATIONS
As our state leaders urge North Carolinians to stay home during this unprecedented pandemic, there are ways you can make a difference.
Donate Medical Supplies and Personal Protective Equipment
Our current purchasing efforts are focused on medical supplies, including Personal Protective Equipment (PPE). If your company can supply any of the supplies listed below, or related commodities or services, please provide your company's information to VendorHelp.COVID19@dhhs.nc.gov.
Critical supplies include:
Respirators (N95, FFP2/3, N99, N100)
Surgical and Procedural Masks (aka: ear-loop masks or 3-ply masks)
Gowns (liquid barrier, meets ASTM PB70 standard for levels 1-4)
Nitrile Gloves
Face Shields
Eye Protection
Shoe Covers
Hand Sanitizer
Surgical Masks
Hand Soap
Disinfecting Spray and Disinfecting Wipes
Ventilators & Anesthesia Machines
Positive Air Pressure Respirator
Controlled Air Purifying Respirator
State Surplus has provided guidance for local and state government agencies and schools on Executive Order 122, related to donation and/or transfer of medical/health supplies including PPEs. Learn more.
Health Care Volunteers Needed
A crucial part of supporting our health care system includes recruiting volunteers to supplement our health care workforce. We are asking for your help to meet these needs. This response is provided through the State Medical Response System (SMRS), which recruits and manages volunteers in the following areas:
Clinical (physicians, advanced care providers, nurses, EMS)
Clinical Support (pharmacy, imaging and respiratory care)
Non-clinical support (facility maintenance, safety, and administrative)
If you can volunteer, please register here.
Volunteer in Your Community
From helping to stock food banks to donating blood, there are numerous ways to help your community. Check out these opportunities across North Carolina.
COUNTY OPERATIONS
Under Governor Cooper's Stay at Home Executive Order, local government offices are considered essential business and are able to continue operations. You can view more about essential government operations by clicking here.
Public Access Closure Notice
Effective March 19, 2020, Harnett County officials closed public access to Harnett County Government Office Buildings due to COVID-19.
Harnett County Landfills and Convenience Sites and Harnett County parks & trails are operating on a normal schedule until further notice.
Although office buildings will be closed for public access, Harnett County Government staff will continue to offer services and provide support to residents at this time. Residents are encouraged to visit www.harnett.org to receive services online or call County Departments for assistance with services. A list of County department phone numbers can also be found at www.harnett.org/department-index.asp.
Residents can also visit www.harnett.org/publicinfo/covid19-cancellations-.asp to learn the latest updates from County Departments and how to access online resources and services.
PREVENTION TIPS
Although your risk of contracting COVID-19 remains low, the county's public health team encourages you to protect yourself from COVID-19 and any other flu-like illness by following these simple steps:
Wash hands frequently with soap and water, and for at least 20 seconds at a time.
Avoid touching your eyes, nose and mouth with unwashed hands.
Avoid close contact with people who are ill.
Cover your mouth and nose with a tissue when you cough or sneeze.
Do not reuse tissue after coughing, sneezing, or blowing your nose.
Clean and disinfect surfaces that are frequently touched using a regular household cleaning spray or wipe.
WHAT TO DO IF YOU FEEL SICK
Coronaviruses like COVID-19 are most often spread through the air by coughing or sneezing, through close personal contact (including touching and shaking hands) or through touching your nose, mouth or eyes before washing your hands.
The Centers for Disease Control and Prevention (CDC) has put together some guidelines for what to do if you feel sick.
Stay home and call your doctor, if needed.
Most people who get COVID-19 will recover without needing medical care. The CDC recommends that you stay home if you have mild symptoms – such as fever and cough without shortness of breath or difficulty breathing. You should call your doctor or 911 right away if you have: shortness of breath, chest pain or pressure, blue lips, difficulty breathing, and/or confusion.
Most people will not need to be tested. When you leave your home to get tested, you could expose yourself to COVID-19 if you do not already have it. If you do have COVID-19, you can give it to someone else, including people who are high risk.
Isolate yourself
If you are sick with COVID-19 or believe you might have it, you should stay home and separate yourself from other people in the home as much as possible. You can stop isolating yourself when you answer YES to ALL three questions:
Has it been at least 7 days since you first had symptoms
Have you been without fever for three days (72 hours) without any medicine for fever?
Are your other symptoms improved?
Call your doctor if your symptoms are getting worse or you have any concerns about your health.
What should my family members do? Anyone in your household or others who have been in close contact with you should stay home for 14 days as much as possible and monitor themselves for symptoms. Close contact means within six feet for at least 10 minutes. If they start having symptoms of COVID-19, they should take the same steps to prevent spreading it.
NCDHHS has released an updated "What to Do If You Feel Sick Fact sheet". View in English. View in Spanish
STAYING INFORMED
Residents are asked to prepare for COVID-19 by getting the latest information directly from reliable sources. The COVID-19 outbreak has been accompanied by a flood of misinformation from unreliable sources. Be thoughtful about what you read or hear about the virus and make sure you are separating rumor from fact before you act.
Please visit Harnett County's COVID-19 webpage (http://www.harnett.org/publicinfo/coronavirus-covid19-updates.asp) for the latest information from the NC DHHS and the CDC. Harnett County will also be providing updates on our Facebook, Twitter, Instagram, and Nextdoor social media accounts.