COVID-19 Prevention
Know Your 3Ws: Wear, Wait, Wash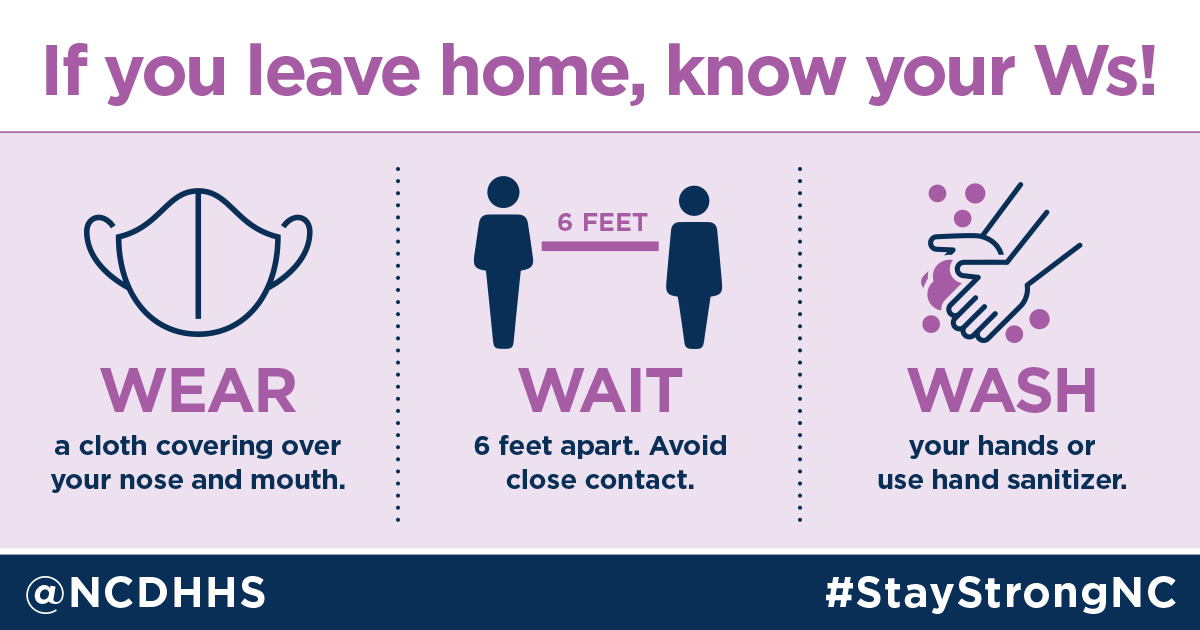 The NC Department of Health and Human Services is asking people to remember these three things as we stay strong and continue to flatten the curve and slow the spread of COVID-19.
If you leave home, practice your Ws: Wear, Wait, Wash
Wear a cloth covering over your nose and mouth.
Wait 6 feet apart. Avoid close contact.
Wash your hands often with soap and water for at least 20 seconds or use hand sanitizer.
These actions can protect our families and neighbors as the state works to ease restrictions while the virus is still circulating.
All North Carolinians are encouraged to share this message in their businesses and through their organizations.
Cloth Face Coverings

Slow the spread. Wear a cloth face covering.
Growing evidence shows that cloth face coverings or masks, when worn consistently, can decrease the spread of COVID-19, especially among people who are not yet showing symptoms of the virus. Wearing a cloth face covering in public settings is a simple but powerful action to slow the spread of this virus.
Under Executive Order 147, North Carolinians must wear cloth coverings over their nose and mouth when in public places where physical distancing is not possible.
Certain businesses must have employees and customers wear cloth coverings over the nose and mouth, including retail businesses, restaurants, personal care and grooming; employees of child care centers and camps; state government agencies under the Governor's Cabinet; workers and riders of transportation; and workers in construction/trades, manufacturing, agriculture, meat processing and healthcare and long-term care settings.
There are exceptions including people with medical conditions and children under 11, people who are at home, and people who are walking or otherwise exercising outside when not within 6 feet of others.
Cloth coverings can play a part in controlling the spread if they are used properly and in combination with other everyday preventive actions like washing hands, social distancing and wiping down surfaces. If used incorrectly, face coverings can expose someone to more germs. Individuals should be careful not to touch their eyes, nose, and mouth when removing or adjusting a cloth covering and wash hands immediately after removing or adjusting.
The CDC does not recommend medical masks as our supplies of masks need to first go to those who work on the frontlines, including health care workers.
Resources
Limit Exposure
Coronaviruses like COVID-19 are most often spread through the air by coughing or sneezing, through close personal contact (including touching and shaking hands) or through touching your nose, mouth or eyes before washing your hands.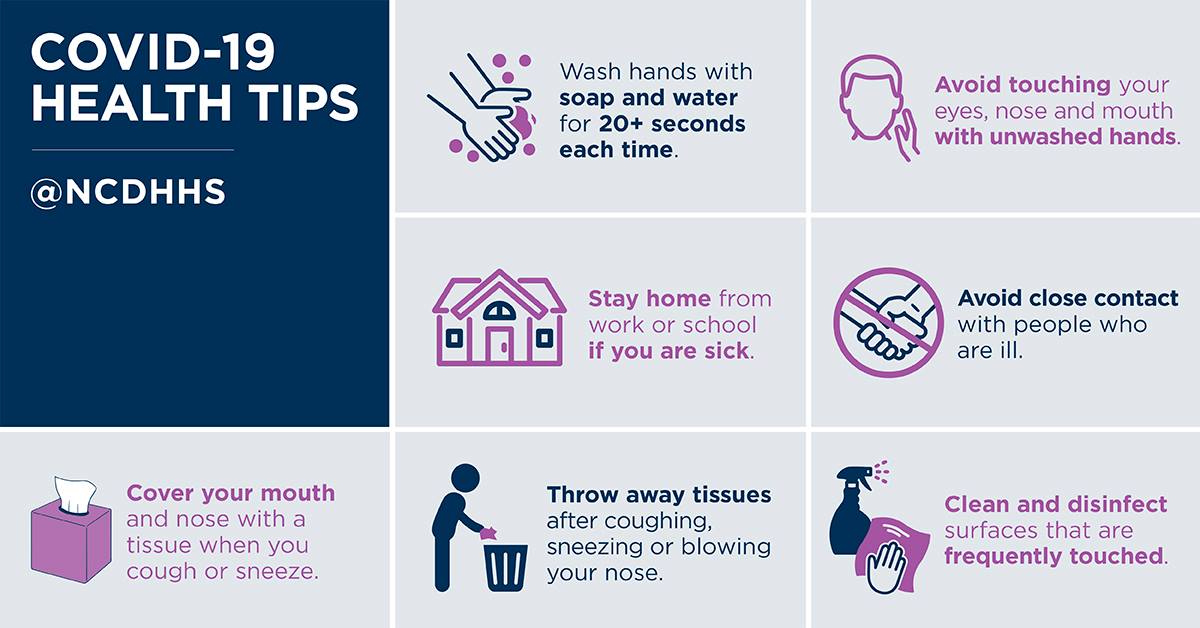 Current understanding about how the virus that causes coronavirus disease 2019 (COVID-19) spreads is largely based on what is known about similar coronaviruses. There is currently no vaccine to prevent coronavirus disease 2019 (COVID-19). The best way to prevent illness is to avoid being exposed to this virus. However, as a reminder, everyday preventive actions to help prevent the spread of respiratory diseases, including:
Wash hands frequently with soap and water, and for at least 20 seconds at a time.
Avoid touching your eyes, nose and mouth with unwashed hands.
Avoid close contact with people who are ill.
Cover your mouth and nose with a tissue when you cough or sneeze.
Do not reuse tissue after coughing, sneezing, or blowing your nose.
Clean and disinfect surfaces that are frequently touched using a regular household cleaning spray or wipe.
What To Do If You Feel Sick?
Here are some helpful tips if you feel sick or are experiencing COVID-19 symptoms.
Stay home and call your doctor if needed: Most people who get COVID-19 will recover without needing medical care. The Centers for Disease Control and Prevention (CDC) recommends that you stay home if you have mild symptoms – such as fever and cough without shortness of breath or difficulty breathing. You can call your doctor to see if you need medical care.
Isolate Yourself: If you are sick with COVID-19 or believe you might have it, you should stay home and separate yourself fromother people in the home as much as possible.
Stay informed: Visit ncdhhs.gov/coronavirus for information from the NC Department of Health and Human Services. Text COVIDNC to 898-211 to get text updates. Find out more information on what to do if you are sick at cdc.gov/coronavirus.
The North Carolina Department of Health and Human Services has put together an information sheet with additional suggestions. View in English. View in Spanish