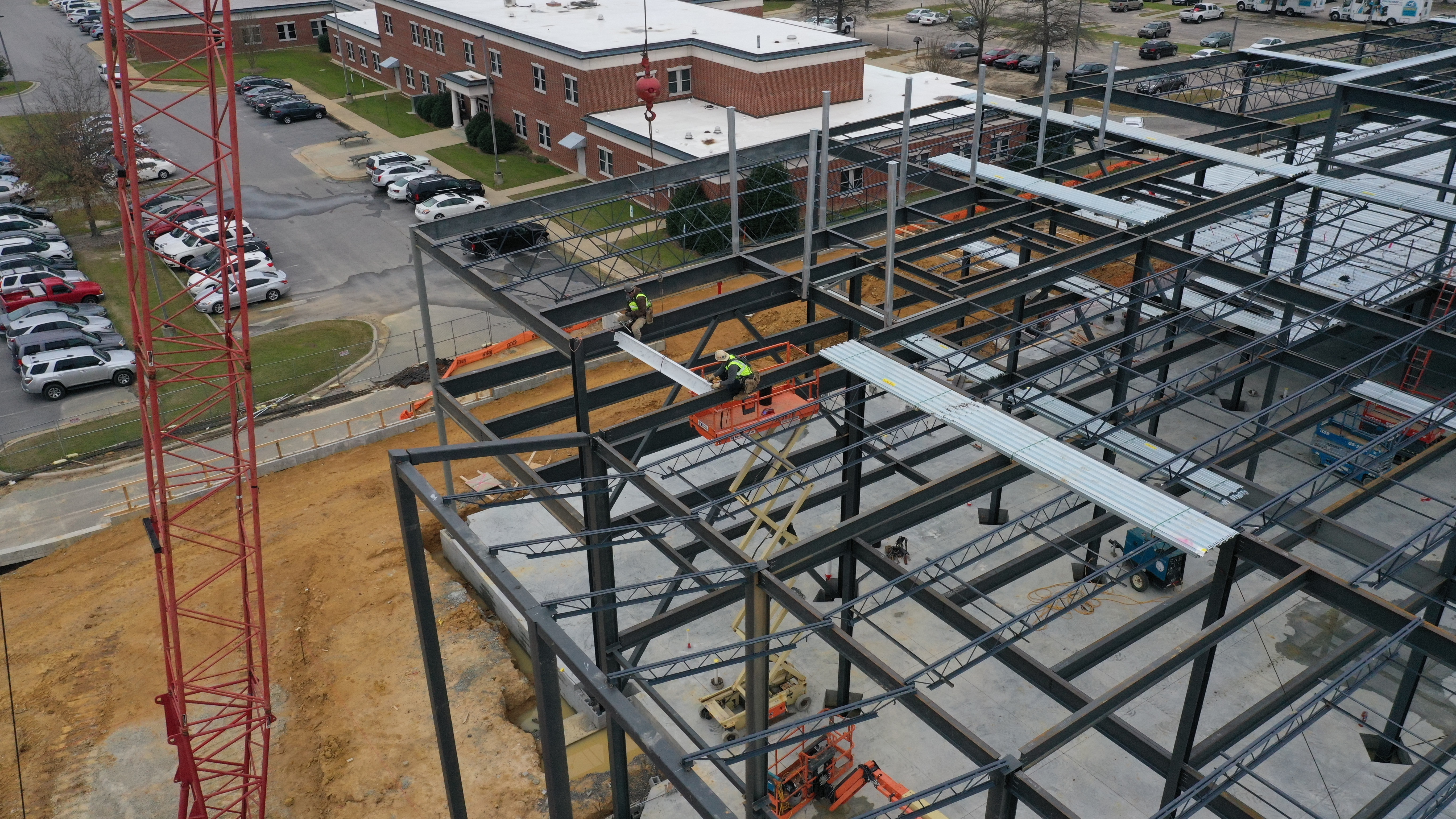 Harnett County celebrated a milestone this week when the last steel beam was placed on the Harnett County Resource Center & Library ahead of schedule, signifying the completion of the structural steel phase of construction.
Construction began on the Harnett County Resource Center & Library in the fall. The building will be located in the Harnett County Government Complex between the Harnett County Courthouse and the Health Department. The project also includes an expansion of the current Harnett County Department of Social Services building to house Child Support Enforcement, which is currently housed in rented space in Erwin, along with site improvements that will make travel through the Government Complex more convenient and improve safety in the complex and on McKinney Parkway.
Nearly half of the new building (19,420 square feet) will be home to a new, modern Harnett County Public Library. The current Library is out of room and prevents staff from providing additional programming and services to the county's citizens. The building will also serve as a new home for Harnett County Veterans Services, which will have direct access to the Harnett County Veterans Memorial Park and to other County departments, connecting the County's 15,000 veterans to valuable resources and services.
The Resource Center & Library will also include nearly 4,000 square feet of training space that can be subdivided to host smaller meetings and training sessions, as well as large events for both County and public use. Additionally, the building will house the County's Administrative offices, including Administration, Finance, Human Resources and Legal, along with Harnett County Parks & Recreation.
Planning began on the Resource Center & Library in 2015 following an evaluation of the County's space needs. In 2017, the County made the final payment on the Harnett County Courthouse, which freed up debt capacity for a new County building.
The Resource Center & Library is necessary to address increased service demand related to Harnett County's rapid population growth. It will accomplish the County's 20-year-old Master Plan by consolidating County services within a single campus, and will create more efficient County operations and an overall better citizen experience. The facility will allow the County to provide enhanced programming and learning opportunities as well as substantial training and event space for County departments, partners and the public.
The next important milestone for the Resource Center & Library will be the building dry-in, when the building's shell is completed. This is expected to take place in June. The Harnett County Resource Center & Library is expected to be completed in Spring of 2021.
You can follow progress on the Harnett County Resource Center & Library at http://www.harnett.org/publicinfo/resource-center-library2.asp.