What is a Resource Center & Library?
If you've been to the Harnett County Government Complex in Lillington over the last few weeks, you've seen some changes. Fencing has been put up and dirt is being moved directly behind Harnett County Veterans Memorial Park between the Harnett County Courthouse and the Harnett County Department of Public Health. Work has begun on the Harnett County Resource Center & Library, which is expected to open to the public in early 2021.
Harnett County Public Library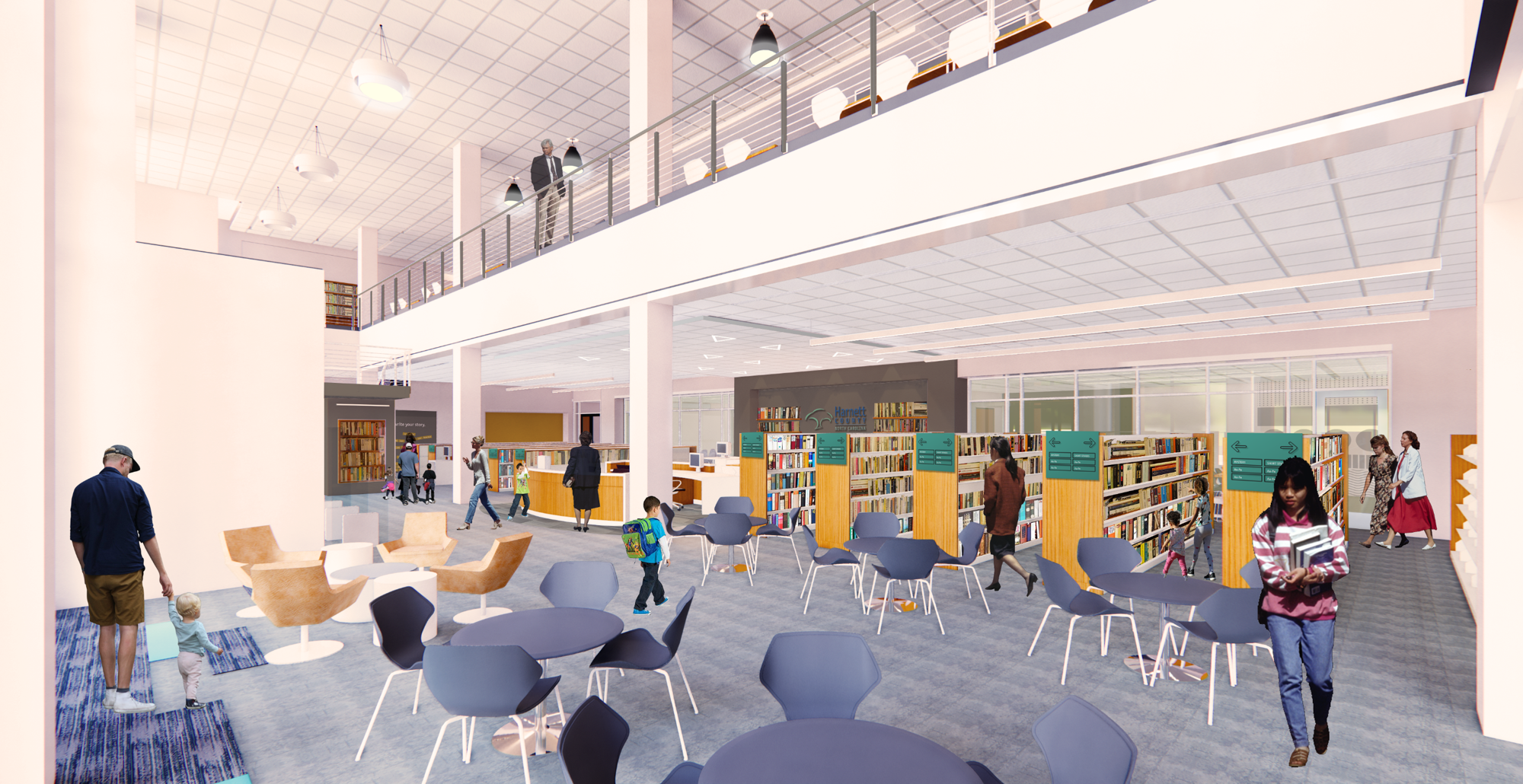 Nearly half of this new facility (19,420 square feet) will be home to a new, modern Harnett County Public Library. Today's Library is more than just a place for people to check out books – it's a center of community activity and meets needs that are not being met anywhere else in Harnett County. The Harnett County Public Library provides important programming for the County's citizens of all ages including cooking classes, yoga, computer classes, book clubs, knitting clubs, trivia, escape rooms, craft-making, LEGO clubs, and more – and of course there's the popular annual Summer Reading Program. In addition to the Harnett County Public Library system's collection of more than 200,000 volumes, the Library's participation in the NC Cardinal program connects patrons to more than 6.3 million materials across the State.
The Library enhances what is offered by the County's school system through its programming and learning opportunities. The newly implemented Student Access program allows every student in the Harnett County Schools system and the county's charter schools access to all of the Library's digital content. The Library also provides programming for the County's growing homeschool population, hosting 36 programs for homeschool students in the past year. In the 2018-19 school year, the State estimates Harnett County had approximately 2,939 homeschool students, which made up more than 12% of the County's total student population.
The Library also helps to bridge the Digital Divide. Many portions of Harnett County do not have access to reliable Broadband Internet. The Harnett County Public Library provides free public WiFi and access to computers where people without access to a home computer or the Internet can apply for jobs and complete coursework, and where students can complete their homework and conduct research for school projects.
The current Library is located in a former grocery store and the Library and parking lot are out of room and prevent the Library from providing additional programming and services. The new Library will offer a state-of-the-art facility that will allow the department to further expand its programming for citizens across Harnett County. The new Library will include an adult and children's makerspace, which will provide patrons with access to 3D printers, laser cutters and other tools, and will provide technology training to prepare adults and children for the 21st century economy. The Library will also tell the story of Harnett County's history with an expanded Local History Room.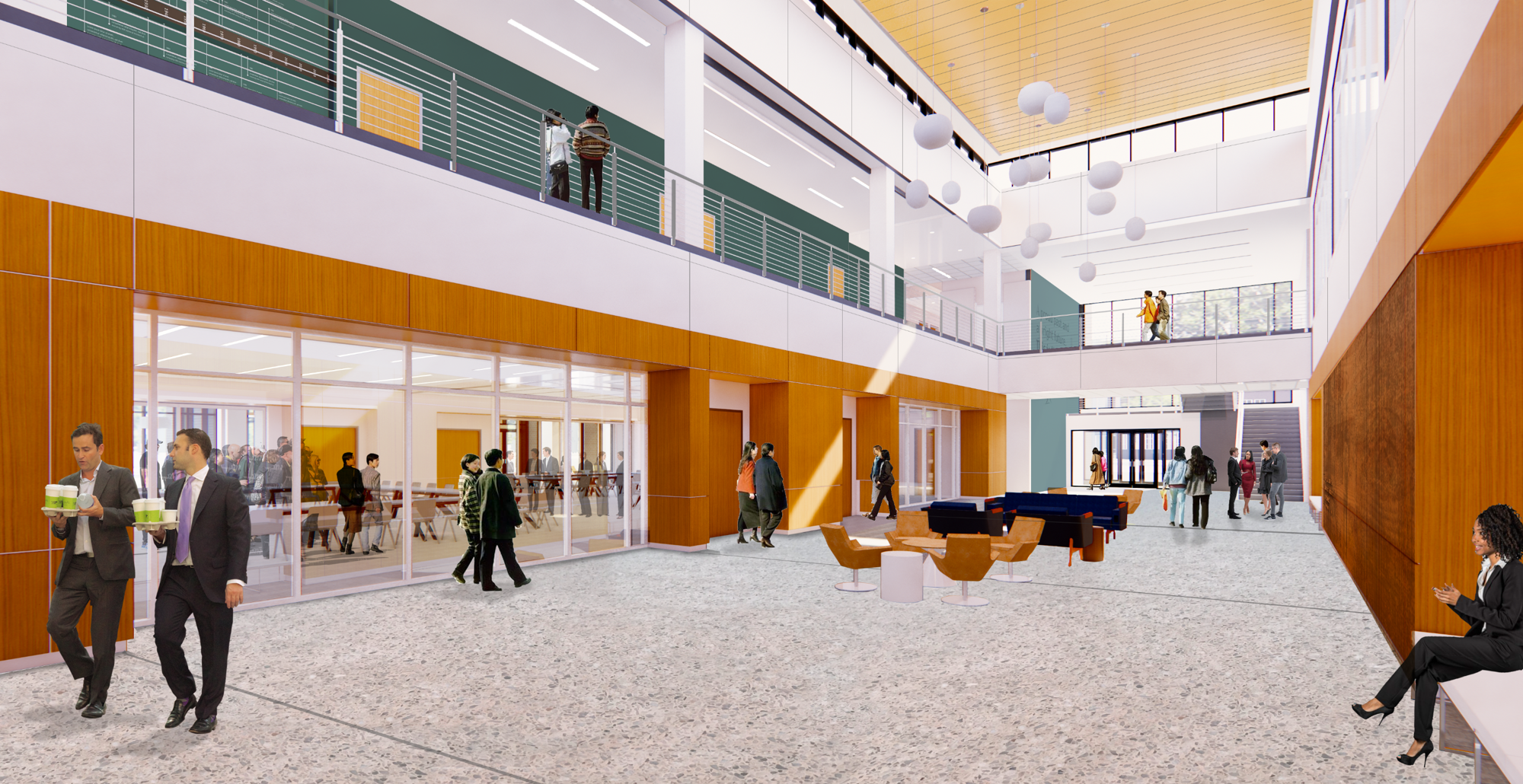 The Resource Center & Library will also include a 3,822-square-foot Training Center that can be subdivided to host smaller meetings and training sessions as well as large events for both County and public use. One thing we hear frequently from citizens and local organizations is that Harnett County has limited space for large meetings and events. This training center will be a significant enhancement over the current Commons Area, both in size and in use. It will have the ability to host large community functions, and could be rented out for private events as well.
Harnett County Veterans Services
Harnett County Veterans Services will also call the Resource Center & Library home. Harnett County's veteran population is currently around 15,000 and that population is growing rapidly. Harnett County Veterans Services is currently located across the Cape Fear River in a location that is difficult to access. Their new location will be adjacent to Harnett County Veterans Memorial Park, where the Harnett County Veterans Council holds its annual Memorial Day and Veterans Day celebrations, as well as other events, and will provide the County's veteran population with direct access to additional County services that can improve their lives.
The new Veterans Services will also include a Wall of Honor, where the contributions of the County's veterans will be recognized, along with space to display artifacts from Harnett County's military history including a model of the U.S.S. Harnett County and related memorabilia.
In addition, the Resource Center & Library will house the County's Administrative offices including Administration, Finance, Human Resources and Legal, along with Harnett County Parks and Recreation. The space will also include a new Harnett County Board of Commissioners Chambers.