Recycling Information
Harnett County Solid Waste encourages all citizens to participate in the many recycling opportunities available in our county.
Recyclables should always be Empty. Clean. Dry.
There are recycling bins for mixed newspaper/magazines, corrugated card board, and co-mingled items at both Harnett County landfills and all convenience centers.
PLEASE DO NOT PUT TRASH BAGS IN RECYCLING BINS.
Acceptable Co-Mingled Items
White paper
Green, brown, and clear glass
Paperboard such as cereal boxes, shoeboxes
Plastic Bottles #1 through #5
Aseptic juice boxes
Gabled-top paper cartons, such as milk cartons
Metal food cans (no food residue)
Aluminum beverage cans
Aluminum foil (no food residue)
Junk mail and catalogs
Non-Acceptable Co-Mingled Items
Styrofoam
Plastic films such as trash bags, grocery bags, shrink wraps. Visit www.plasticfilmrecycling.org to learn how to recycle these items.
Pizza Boxes or any other materials with food residue.
Also at the Landfill Transfer Station sites only, we have recycling bins/areas for used lead acid batteries, scrap metal/white goods, non-construction wooden pallets, used vehicle oil filters, and scrap tires.
(Effective October 1, 2009, the North Carolina General Assemby has banned all used vehicle oil filters, non-construction wooden pallets, and plastic bottles from being disposed into landfills. (GS130A-309.10(f)) Please dispose of these items into the appropriate bins/areas at our facilities.)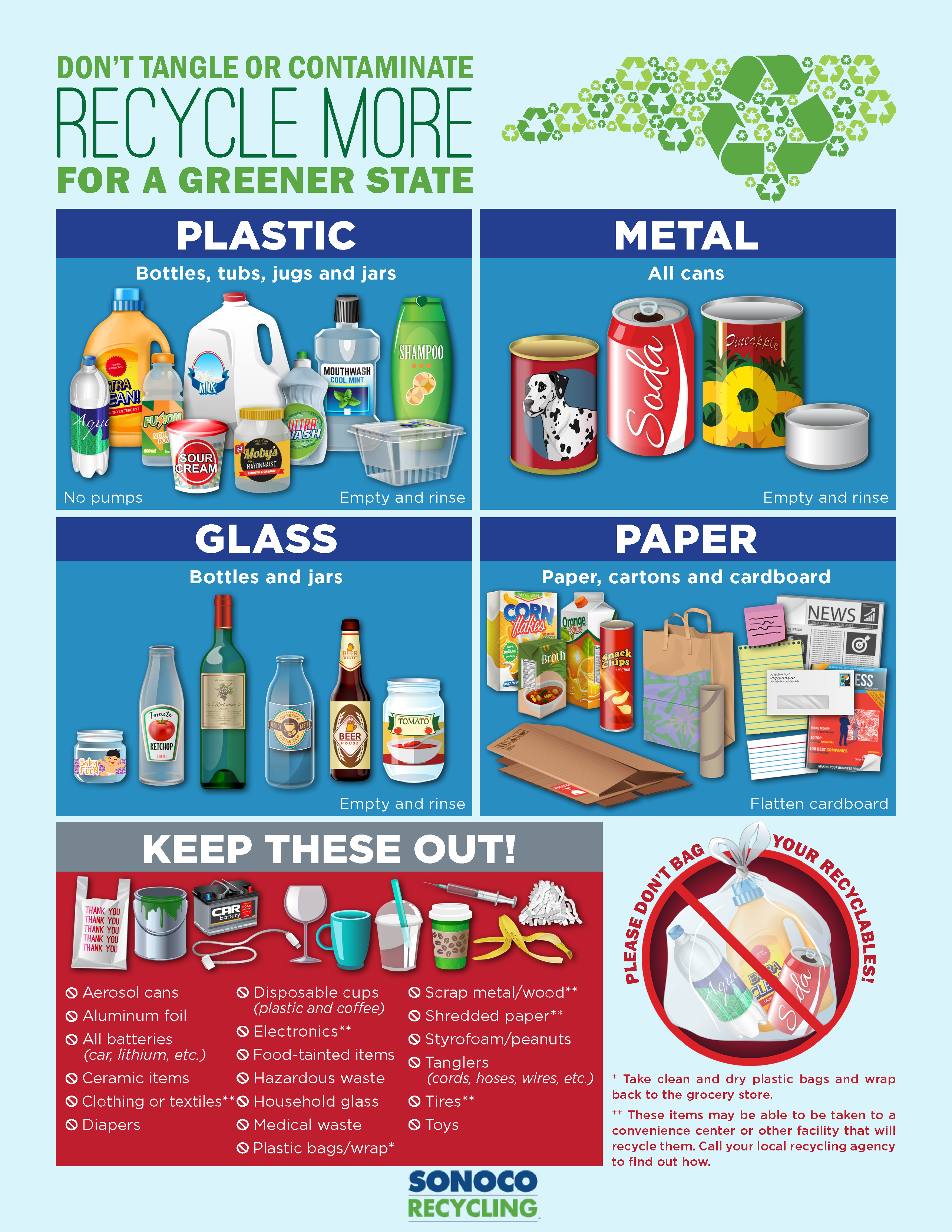 Recycling Information Links: