Public Information Office
The Public Information Office, a division under the County Manager's Office, oversees the communications, marketing, and community relations efforts between the county and our citizens. Our goal is to keep citizens connected with frequent and reliable updates on news and information. You're invited to engage with the county by participating in events, attending community input sessions, providing feedback on county initiatives and programs, and reporting any issues or concerns.
Internal and External Communications
* Create monthly employee newsletter, Harnett Connect, and citizen newsletter, Harnett Happenings
* Write and distribute news releases and media advisories
* Serve as a liaison to media requests
Marketing and Branding
* Manage county brand guidelines
* Develop content for county social media pages
* Create county-wide marketing and communications plans
Community Relations
* Serve as a liaison to citizens
* Provide opportunities to engage citizens in county initiatives, programs, events, and services
* Facilitate community input sessions
Important Announcements
Halloween Drive-Boo Trick or Treat Event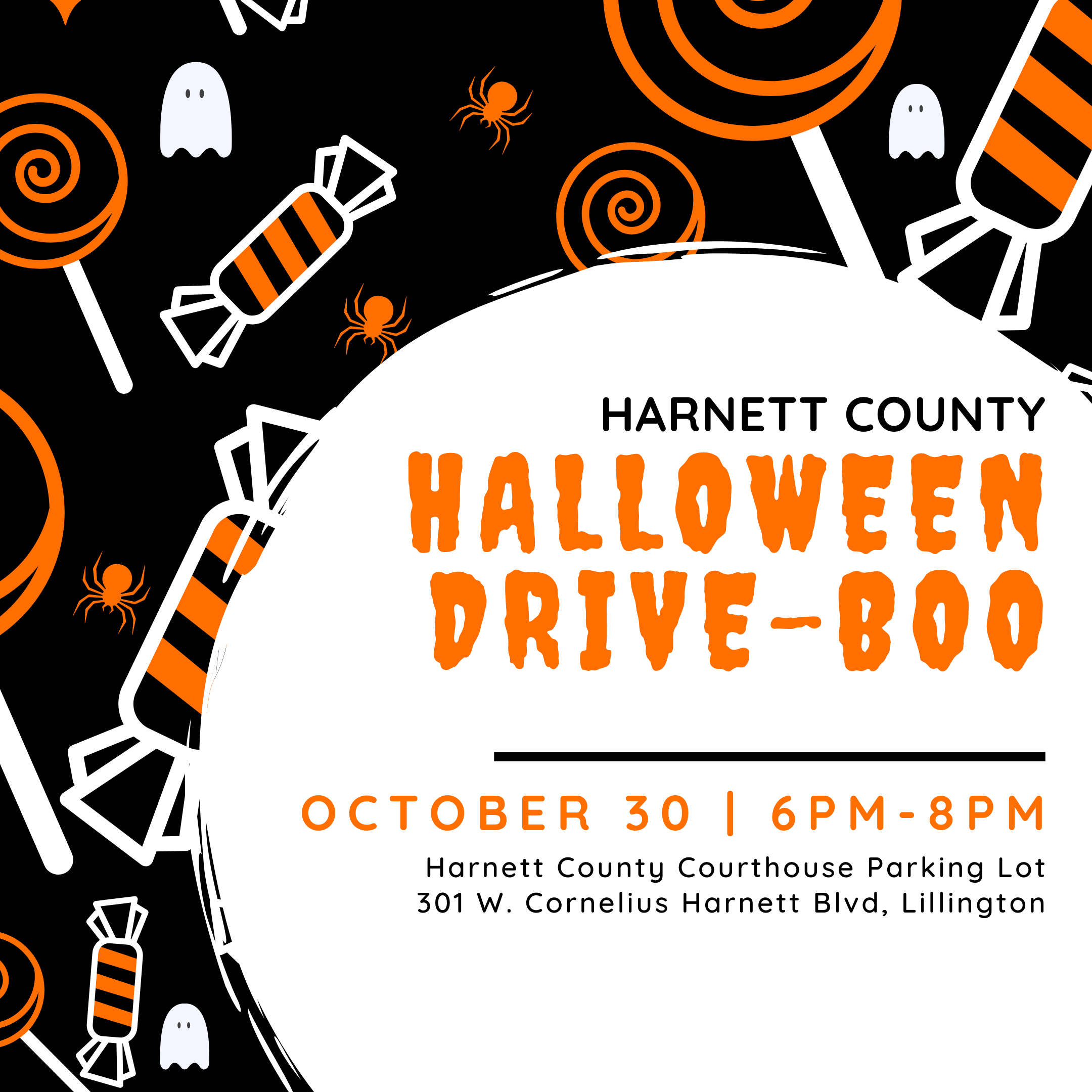 Looking for a spooktacular Halloween event? Join us at the Harnett County Courthouse Parking Lot on October 30 from 6PM-8PM for a drive-thru Halloween trick or treat event to receive free Halloween goodies.
Vehicles will enter the drive-thru event at the entrance of the Courthouse on W. Cornelius Harnett Boulevard in Lillington and follow a designated route through the Courthouse parking lot. County staff from 12 departments, including Health Department, Veterans Services, Tax Department, General Services, Solid Waste, Soil & Water Conservation District, Sheriff's Office, Emergency Services, Department of Social Services, Parks & Recreation, and the Public Library will have Halloween themed stations and hand out pre-packaged Halloween goodie bags to participants. Goodie bags will be distributed on a first come, first serve basis. All individuals will be required to stay in their vehicles during the event.
Families are encouraged to dress up in costumes. Halloween costume masks will not block potentially infectious droplets, so face coverings are recommended to be worn.
For more information, contact Ashley Deans at 910-814-6001 or adeans@harnett.org.
Enter your email to subscribe for Harnett County Citizens Updates!