Welcome
Harnett County Solid Waste is reponsible for the management and day-to-day operation of the landfills/transfer stations located in the county. It is the mission of the Harnett County Solid Waste Department to be an innovative and responsive organization that aggressively provides environmentally sound and fiscally responsible waste management while educating the public on responsible long term waste management practices and systems.
NOW ACCEPTING Credit Cards and Debit Cards at the Anderson Creek Landfill and Dunn-Erwin Landfill.
Visa, MasterCard and Discover cards will be accepted.
Important Announcements
Free Shred Event on May 22
Join us for a Free Paper Shred Event on Saturday, May 22 from 9:00 AM to 12:00 PM at the Harnett County Health Department Parking Lot, located at 307 W. Cornelius Harnett Boulevard in Lillington.
The event is open to all Harnett County residents. Interested individuals can bring up to 10 boxes or bags of personal documents to be shredded safely and securely by a certified mobile shred truck.
Only shredded paper will be recycled. Participants will be required to take any boxes or bags with them that were used to transport the paper. No cardboard, binder clips, 3-ring binders, or electronic media will be accepted.
For more information, contact Harnett County Solid Waste at (910) 814-6156.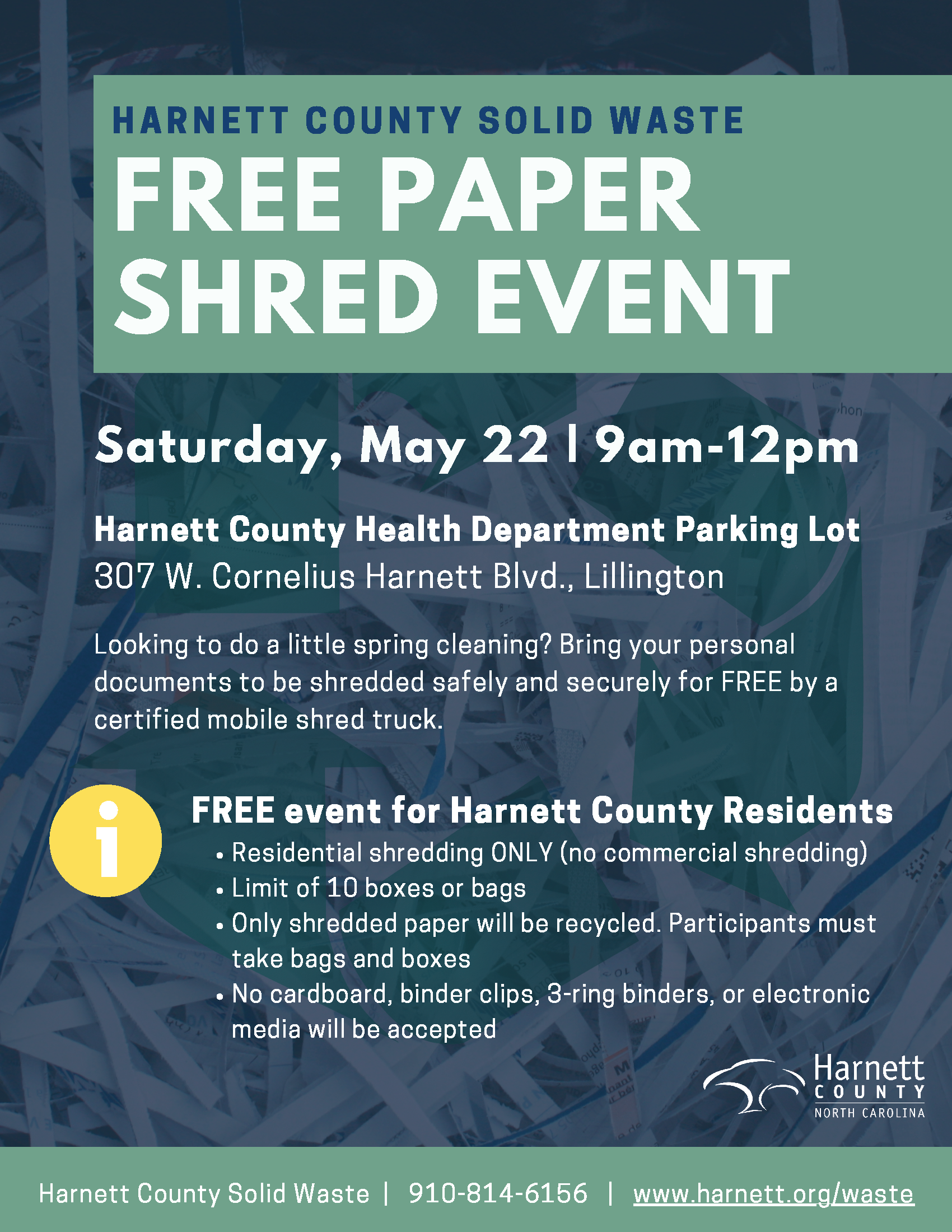 Check out the new Solid Waste Application
Harnett County Solid Waste has announced the launch of a new application that provides citizens with resources about our County landfills and convenience sites. The new app allows citizens to input their address to search for the closest landfill or convenience site, lists hours of operation, waste accepted at each site, and educational resources related to recycling and disposing of waste. Check out the new app by clicking on the photo below!
How to Claim Your Solid Waste Sticker
Solid Waste stickers can be obtained at both landfills, Dunn-Erwin and Anderson Creek, and at all four convenience center sites. To obtain a sticker, please show proof of Harnett County residency. Acceptable proof of Harnett County residency would be a driver's license, a vehicle registration card, tax bill, water and/or power bills (a physical Harnett County address must be shown).
For questions, please call the Solid Waste Department at 910-814-6156.